Witness is the title to the fourth mainstream studio album by Katy Perry. This is her fifth solo studio album overall, including the Christian-gospel album, Katy Hudson. The album is expected to be released June 9, 2017 while pre-orders started May 19. A physical copy of the album was bundled with the purchase of tickets to the "Witness: The Tour". The album was described by Perry to be about different types of "liberation" from political liberation to sexual.
Background
Prior to the official title release, the album was largely referred to as "KP4" by fans and media alike. Katy Perry's manager, Steve Jensen, originally announced the studio album would be released by 2016, but it was later confirmed for a 2017 release date.
Katy Perry revealed she was "in the research and development stage" during a piece with the New York Times in February 2016. Stating that the music she's working on isn't following current trends saying, "Right now I'm taking a little time. I don't want to jump on any trends. I just need to evolve."[1] After she embarked on the "Prismatic World Tour" and performed at the Super Bowl Halftime Show of 2015, Perry decided it was time for a break. She went back to her hometown of Santa Barbra, California where she said she gathered herself. "The energy is just totally different — it's not thirsty or desperate or clingy," Perry says during her Entertainment Weekly exclusive. "It's a really beautiful kind of Zen-like feeling place. I just went there to gather myself and I started making a record in June of last year."
In May 2016, Katy Perry's official Twitter account was hacked with the hacker threatening to leak tracks from the album. Ultimately the a demo of a song titled "Witness" was uploaded to a Soundcloud account made by the hacker. The hacker also uploaded a video of a snippet of the song "Rise", which fans thought was to be a song titled "Victory". The single "Rise" was released July 14, 2016 and was believed to have been the first single off the new record, but it was announced by Katy Perry to be the official song for 2016 Summer Olympics.
On August 24, 2016 Katy spoke about the album during an interview with InStyle revealing that she's working with "a lot of unexpected writer and producers," something that was "bringing out a lot of different things, sonically. Even when I was working with my go-to producers, I'd always push them to play me a beat that was reserved for Three 6 Mafia something like that, I know exactly how to write a lyric over that because my strengths are melody and lyrics. I'm putting myself in unexpected situations and that is breeding a lot of new color."[2]
Also in August, Swae Lee of the rap duo Rae Sremmurd mentioned to Complex that Perry had recorded a song he wrote for her. "I wrote this track and [Katy] laid it and it's pretty dope," he revealed. "She got a lot of style. She about to come with it!"[3] Perry confirmed on October 20, 2016 through her Twitter account she was making music again with producers Max Martin and Shellbeck.[4] On December 17, 2016 Perry shared two brief videos on her Instagram account of her in the studio with small snippets of the new music.[5][6] In one of them she mouth's "Don't be scared to di…" along with vocals playing in the background. Perry teased the song again on her Instagram story February 10, 2017.[7]
Perry says she wrote about 40 songs and that she had trimmed it down to 15 songs, feeling those 15 embody the message she wants to share. "It's really quite brave," says Perry of the album. "Sonically, it's fun and dance-y and dark and light. It's all of these things. It definitely is a change." She also added "I left my 20s and I've gone to my 30s, I've embraced. I've surrendered. I've healed some of my issues with my family, with my relationships. Today I'm sober but I don't know about tomorrow! One day at a time, right? [Laughs] It's all kind of beautiful. I built up Katy Perry and she was so fun. And I still am Katy Perry and I love her so much but, at the core, I'm Katheryn Hudson and I think that's being revealed as I embrace who I really am."
In response to if there will be any songs about other artists on the record, Perry stated to Entertainment Weekly, "This record is not about anyone else! This record is about me being seen and heard so that I can see and hear everyone else! It's not even about me! It's about everything that I see out there that I digest. I think there's a healing in it for me and vulnerability. If people want to connect and be healed and feel vulnerable and feel empowered and strong, God bless and here it is."[8]
Development
The start of the era began on February 6, 2017 with a Instagram post of an image of Katy Perry sporting bleached-blond hair in a pink wardrobe against a baby blue background, captioned "New life who dis".[9] This was followed by an official announcement from the Recording Academy that Katy Perry will be performing at the 2017 Grammy Awards. [10] The following day billboards were placed around the United States revealing February 10 to be the official release date of the lead single, "Chained to the Rhythm".[11] After the single release, Katy Perry released limited edition merchandise to commemorate the single's launch. The same month, Spotify had announced that it would run a campaign to promote the album up to its release the following the summer.
During late April, Perry sent fans a recipe via her newsletter for the "World's Best Cherry Pie". She encouraged fans to bake cherry pies and those who did would get a "surprise". The surprise she was referring too turned out to be a black menu entitled "Témoin", which is means "Witness" in French. On April 26th, Perry announced the second single from the album, "Bon Appétit" featuring Migos, would be released later that week. On release day for the single, Perry parked a truck that contained the words "World's Best Cherry Pie" and "Project Witness" labeled on it, in Times Square of New York City. Much like with the previous single, limited edition merchandise to commemorate the single's launch.
On May 1, 2017 Perry attended and performed at the Met Gala in which she was also co-chair. She wore a custom designed by John Galliano for Maison Margiela in honor of the Met Gala's theme, "Rei Kawakubo/Comme des Garçons: Art of the In-Between". On the red veil she adorned, the words "Witness" were snitched onto along with a symbol of an eye. YouTube announced during their Brandcast Event, in which Perry performed, that it would broadcast a live listen-along special for the album titled Katy Perry Live Special the day before its release where audiences are taken "inside of her world" and she shall "break it all down".
May 13 an advertisement began showing in Times Square of Katy Perry's eye with the date May 15. The same ad was also included in American Airlines Center's official Instagram story. A snippet of the song "
Witness
" was shared on Perry's twitter account. The next day, she confirmed the album would be titled 
Witness
 and shall be released through Capitol Records on June 9, 2017. She also announced that the concert tour supporting the album—which was titled Witness: The Tour—will run in North America from September 2017 to February 2018. Tickets purchased would include a copy of the album.
A song titled "Swish Swish", featuring Nicki Minaj was released on May 19, 2017. It was produced by Duke Dumont. On May 20, 2017, Perry performed "Swish Swish" and "Bon Appétit" on the Saturday Night Live season 42 finale. On May 22 an official album trailer was released through Perry's official social media.[12]
Album trailer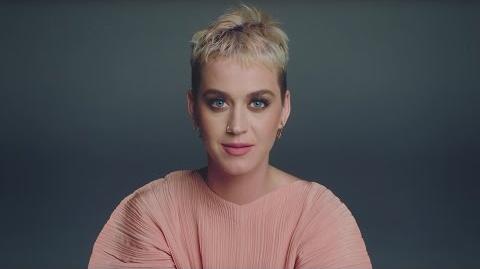 Artwork
The album cover was unveiled May 18 2017 and features an image of Perry covering her eyes as her mouth opens with an eye-ball. During her interview on the Tonight Show with Jimmy Fallon, Perry explained the meaning behind the eye. "My education, my consciousness comes from my voice and that's how I see. That's how I witness you and that's how you witness me. That's why the eye is in the mouth." During the Elvis Duran Morning Show she further explained that the eye in the mouth represents the wisdom you get as you get older, the perspective chance, and the broader consciousness. She believes the broadening of her mind comes from her voice so the eye represents the "consciousness", which is usually depicted on the forehead to symbolize 'the third eye', but Perry's is in her throat and mouth.[13]
Singles
"Chained to the Rhythm" is the lead single from the album and was officially released February 10, 2017. The song was promoted by a global scavenger hunt for disco-balls which contained snippets of the song. The single broke a Spotify record for the most first day streams for a female artist in the United States with 3,062,293 streams.[14] The song had a major debut on Pop radio, having a first day audience impression of 27.735 million.[15]
"Bon Appétit" serves as the album's second official single and features the rap group, Migos. The song was officially released April 28, 2017. The song was promoted with a week long campaign of fans submitting cherry pie pics to Perry based off the "World's Best Cherry Pie" recipe she provided. A solo version without Migos was serviced to radio as well. The song debuted at #76 on the Billboard Hot 100.
"Swish Swish" featuring Nicki Minaj is the album's third official single. The song was officially released on May 19, 2017 and replaced the former single for radio adds for unknown reasons. This is the first song released by Katy Perry which features a female artist. The song was performed live for the first time during the season finale of Saturday Night Live.
Confirmed songs
Track list
Standard edition
Deluxe edition/Target exclusive[16]
References
Ad blocker interference detected!
Wikia is a free-to-use site that makes money from advertising. We have a modified experience for viewers using ad blockers

Wikia is not accessible if you've made further modifications. Remove the custom ad blocker rule(s) and the page will load as expected.