Witness: The Tour
class="" |
Tour by Katy Perry
Associated album
Witness
Start date
September 19, 2017
End date
August 16, 2018
Legs
3
Shows
51 in North America
20 in Europe
12 in Oceania
83 total
Katy Perry tour chronology
'Prismatic World Tour
(2014-15)
Witness: The Tour
(2017-18)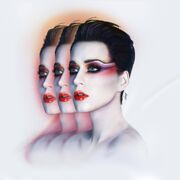 Witness: The Tour (also referred to as Witness: The World Tour) [1] is the fourth concert tour by Katy Perry in support of her fifth studio album Witness. The tour is scheduled to begin on September 19, 2017, in Montreal, Canada, at the Bell Centre, and to scheduled to conclude on August 16, 2018, in Sydney, Australia at the Qudos Bank Arena.
Pre-sale for fans began May 18, 2017 through Ticketmaster's Verified Fan system. Fans register for the date they are interested in and receive a code through email which they can sue to access the pre-sale. A copy of the album will be included with every ticket purchase.
Background
The tour was announced on May 15, 2017 after being teased for a few days prior. Advertisements begun with an image of Perry's eye with the date "May 15" appearing in Times Square of New York City. Perry partnered with Boys & Girls Clubs of America to donate tickets to club members and volunteers. Free tickets could be earned by signing up at GlobalCitizen.org and volunteering to support Boys & Girls Clubs of America. $1 per every ticket sold will also be donated to Boys & Girls Clubs of America.
The first leg was announced in North America across the United States and Canada. The leg will run from September 2017 until February 2018. The second leg was announced on June 2, 2017 taking place across Europe. The leg will run from May to June 2018. The third leg was announced on June 30, 2017 taking place across Oceania. The leg will run from July 2018 to August 2018. One month later, three additional Australian dates were added following popular demand. The tour was originally scheduled to begin in Columbus on September 7, 2017. However, Perry revealed on August 17 that due to production delays, the tour has been rescheduled to begin September 19, 2017, with opening night set in Montreal at the Bell Centre. She also confirmed that Noah Cyrus, Purity Ring, and Carly Rae Jepsen would respectively serve as opening acts from September 19 to November 1, November 7 to December 20, and January 5, 2018 to February 5, 2018.
Stage design
Promotional video
Set list
Songs Perry says she will like to perform live for the tour:
References
Ad blocker interference detected!
Wikia is a free-to-use site that makes money from advertising. We have a modified experience for viewers using ad blockers

Wikia is not accessible if you've made further modifications. Remove the custom ad blocker rule(s) and the page will load as expected.