The Sims 3: Katy Perry's Sweet Treats is a game expansion for the popular gaming franchise The Sims. It features many of Katy Perry's iconic outfits and candy themed objects from her California Dreams tour.
This game was officially released on the 5th of June, 2012. The pack has officially been discontinued by EA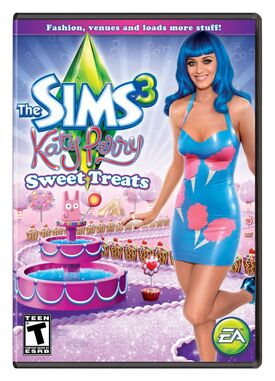 New Content
This game includes up to 33 outfits and 55 objects.
Ad blocker interference detected!
Wikia is a free-to-use site that makes money from advertising. We have a modified experience for viewers using ad blockers

Wikia is not accessible if you've made further modifications. Remove the custom ad blocker rule(s) and the page will load as expected.