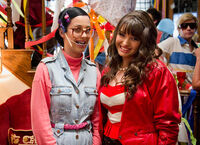 Rebecca Black is an American pop musician made famous by her single "Friday", which received mostly negative reviews and was dubbed "the worst song ever" for it's use of auto-tune reasons. Black starred as herself in Katy Perry's music video for "Last Friday Night (T.G.I.F.)" and also gave Perry a makeover for the music video, indicating that Perry and Black are most likely good friends. The two also performed Black's hit during a show on the California Dreams Tour. She also has her own YouTube channel under the name, rebecca.
Ad blocker interference detected!
Wikia is a free-to-use site that makes money from advertising. We have a modified experience for viewers using ad blockers

Wikia is not accessible if you've made further modifications. Remove the custom ad blocker rule(s) and the page will load as expected.