Prism (album)
Talk

2
379pages on
this wiki
Redirected from Prism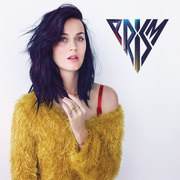 Prism (stylized as PRISM) is the fourth studio album, and third mainstream studio album, by American recording artist Katy Perry. It was released on October 18, 2013 by Capitol Records. Recording for the album began in 2012, following the March 2012 re-release of her August 2010 album Teenage Dream, subtitled The Complete Confection, and continued into the following year. The album's composition was mostly inspired by Swedish dance music artists such as Robyn. In order to create her desired sound, Perry worked heavily with Swedish producer Max Martin, while also enlisting past collaborators Dr. Luke, Cirkut, Greg Wells, Benny Blanco, and StarGate, as well as new collaborators Klas Åhlund, Bloodshy, and Greg Kurstin.
"Roar" was released on August 10, 2013 to American radio stations as the album's lead single and it has since topped the US Billboard Hot 100, while peaking at the top 10 of twenty-five countries. "Dark Horse" featuring rapper Juicy J was released on September 17, 2013 on iTunes as the album's first promotional single. "Walking on Air" was released on September 30, 2013 as the album's second promotional single. "Unconditionally" was released as the album's second single on October 16, 2013.
Background and development
In a Fall 2012 interview with Billboard, Perry stated about Prism: "I know exactly the record I want to make next. I know the artwork, the coloring and the tone..... I even know what type of tour I'm doing next. I'll be very pleased if the vision I have in my head becomes a reality." She also mentioned that she did not want the album to be a "Teenage Dream 2.0", stating: "That would be silly. It's not of any interest for me to try and outdo myself at every corner". Furthermore, she declared: "I am doing little things here and there. I was just in the studio with another artist and it turned out all right. I'm going to start dusting off the wheels just a little: [I'm] going in with a couple of people in November [2012] and try out fun collaborations that maybe people wouldn't imagine".
While she was on the California Dreams Tour, Perry started recording "fragments" of ideas she had on her phone. She entered the studios in November 2012 along Greg Kurstin and Greg Wells, but felt that she was in a "dark place" and postponed them. Perry went through an "intensive" period of self-examination, including a trip to Africa, and the sessions began in March 2013 again. She reunited with Dr. Luke, Bonnie McKee, and Cirkut in her hometown of Santa Barbara, California. From there, she headed to Stockholm, where she worked with Max Martin, Stargate, Benny Blanco, Juicy J, Jonatha Brooke, Sia Furler, Bloodshy, and Klas Åhlund. Perry then suggested that they should release the album in the fourth quarter of 2013. In April 2013, Perry stated that the album was halfway complete and deemed it "schizophrenic", while adding: "When I tell the record company when I want to release the album, that's when the race starts. That's when I put pressure on myself". About the recording sessions and production, Perry said: "As a team we have certain strengths, with Max, it's melody choices, Luke is production and I'm topline and melody. Working with Bonnie McKee is like an emotional abuse session, Bonnie and I argue [like] we're in the ring fighting for the best lyric". Two months later, McKee revealed that Perry and herself wrote four tracks together and added that they were more "grown up". The following month, McKee also stated: "Well, you know, we work with [producers] Dr. Luke and Max Martin, they're like melodic geniuses..... [Luke] and [Max] come back [to us] with the track and we kind of find the story within the track".
After Perry's initial devastation from English actor/comedian Russell Brand divorcing her in late December 2011, she felt influenced to make a "darker" album than her previous studio efforts. During a June 2012 interview with L'Uomo Vogue, the singer stated: "It was inevitable, after what I went through. If I had a time machine and could go back in time, I would. But I can't, so, you'll discover another part of me". Perry claimed that she "hadn't let the light in" when the recording sessions for Prism started in November 2012. The creative process behind Prism turned it into a different album from what Perry expected: the singer felt inspired while watching a six-minute video by Eckhart Tolle, author of the self-help book The Power of Now. She stated: "When you lose something, all your foundations crumble-but that also leaves a big hole that's open for something great to come through." Perry ultimately took a more positive direction with the record. The singer revealed to MTV News: "There's not really any darkness on the record. There's definitely some textures and colors but I think I was saying that when I saw going through a different phase, but I really let that light in." Perry ultimately described Prism as "more organic, au naturale [sic], vulnerable and honest" than Teenage Dream, but as having "the same amount of fun" of the latter.
Promotion
On July 29, 2013, a big golden truck driving in Los Angeles revealed that the album is titled "Prism" and will arrive on October 22, 2013, Katy tweeted: "Find the Prism semi, take a picture and I'll RT you. Don't worry, Los Angeles is just the first stop on the map." The truck made stops through varies cities in the U.S., however, on August 9, 2013, the truck was hit by a drunk driver in Pennsylvania. After hearing the news, Katy tweeted: "The #PRISM semi is bumped and bruised but she is a champion! She will return."
Prior to the release of "Roar", Perry released four teasers, all of which stated the single would be released August 12, 2013, though the single was released two days earlier than expected. The first teaser showed her burning the blue wig she wore in her 2010 "California Gurls" music video, revealing the song title and planned release date. The second teaser showed her at a funeral for her trademark peppermint swirl outfit. The third teaser showed a cat eating a feather toy and roaring afterwards. The fourth teaser showed Perry walking into a recording studio. The latter two teasers contain snippets of the song. On the day of its iTunes release, Perry promoted the song's release in New York City.
On August 20, 2013, fans were given the opportunity to unlock song titles, lyrics, and snippets from Prism by tweeting #KATYNOW. After fans heard the two snippets, they chose which one they wanted to be released in full on September 17, 2013 before the album is released. The two snippets were "Dark Horse", featuring rapper Juicy J, and "Walking on Air". At the 2013 MTV Video Music Awards on August 25, 2013, "Dark Horse" was declared the winner with Perry giving a brief description of each song afterwards. Perry stated that with "Walking on Air", she wanted to "really wanna bring that kind of authentic 90's deep house song styling back". Perry stated that "Dark Horse" was written with friend Sarah Hudson and described the song as having an "urban kinda hip-hop flavor". She describes its lyrics as "a witch warning this man not to fall in love with me and if you do just know I'm gonna be your last". Perry also tweeted that "Dark Horse ft Juicy J is just a PREVIEW of #PRISM when released on Sept 17, NOT the 2nd single".
On September 5, 2013, a Prism listening party took place, where all the guests including several music critics listened to the album. The songs played included "Walking on Air", "Unconditionally", "Dark Horse", "Double Rainbow", "Legendary Lover", "Birthday", "This Is How We Do", "International Smile", "Ghost", "Love Me", and "By the Grace of God". She revealed its album cover the following day on Good Morning America. A second Prism listening party took place on September 6, 2013 in Atlanta, while a third took place September 12, 2013 in Los Angeles; during the Los Angeles party, the album's tracklist was revealed. All 13 tracks on the album's standard edition were played at this party, including "This Moment," which was played for the first time.
On October 23, 2013, Perry hosted the "We Can Survive" concert along with Kacey Musgraves, Sara Bareilles, Ellie Goulding, and duo Tegan and Sara at the Hollywood Bowl in Los Angeles, where she performed her Prism tracks for the first time. On August 12, 2013, during an On Air with Ryan Seacrest interview, when asked if she will miss anything from the Teenage Dream era, she replied: "I'll probably be integrating it in a new way especially when I go on tour next year. It will just be kind of an evolved version of Teenage Dream. And when you see me on tour, you're always going to get the songs you want to hear… I'm not deserting any of it". She will begin a tour to promote the album on May 7, 2014.
"Dark Horse" featuring Juicy J was released on iTunes as the first promotional single on September 17, 2013. After two days of sales, "Dark Horse" debuted at #17 on the Billboard Hot 100 and inside the top ten at number ten itself on the New Zealand Singles Chart. Perry first performed "Dark Horse" on September 20, 2013 at iHeartRadio Music Festival. "Walking on Air" was released on iTunes as the second promotional single on September 30, 2013. Katy also headlined for closing the iTunes Festival on September 30, 2013, where she performed "Roar", "Dark Horse", "Walking on Air", and "By the Grace of God".
Composition
"Roar", a midtempo, synth-driven power pop song, opens Prism. It contains elements of folk rock, arena rock, and glam rock. Lyrically, it is an "empowerment anthem" in which Perry stands up for herself, having "discovered her power within". Perry described the song as "a record about self-reflection and self-empowerment and learning to deal with the curve balls that life throws you every single day." She also mentioned that: "Who can be the biggest bully in the equation is yourself and can get in your way and it's a song about [standing up] and speaking up for yourself and having the strength".
"Legendary Lovers" was referred as the song with "the most interesting chorus" ("Take me down to the river / Underneath the blood-orange sun / Say my name like a scripture / Keep my heart beating like a drum"). Perry described the song as having "a little bit of curry in it", while James Montgomery, writing for MTV, stated that the song "simmers slowly before breaking out in an arabesque gallop". Furthermore, it was also includes a breakdown near the bridge, a bhangra-based instrumental, and was deemed a "hazier, spacier version of Perry's typical love song". "Birthday", a Mariah Carey influenced track, was called a "stone-cold stunner" with "the most smash potential". Gary Trust from Billboard believed that the song is a future Billboard Hot 100 number one contender. The fourth track and second promotional single, "Walking on Air", was produced by Klas Åhlund. Perry aimed for a 90's house song-oriented sound, listing CeCe Peniston's "Finally" and Crystal Waters' "100% Pure Love" as examples of the sound she was trying to reach for.
"Unconditionally", Perry's personal favorite song on the album, is a "soaring" power ballad with an "epic chorus". Jason Lipshutz from Billboard noted that the song includes a "woodblock percussion" as well as "a dramatic bass line" and deemed it the album's "most mature offering". He called it "an ode to love that looks past all flaws" and, furthermore, stated that the song acts as a "compellingly grounded predicate" to the title track from Perry's previous effort. Capitol's executive vice president Greg Thompson stated that "Unconditionally" is destined to become "the wedding song of 2014". Perry herself described the song as a song about unconditional love that could come in all forms, including those from relationships, from parent-to-child, and from sibling-to-sibling.
"Dark Horse" is the album's first promotional single. It was produced by Dr. Luke and Max Martin. Spin magazine praised the song's "soaring hooks and sleekly sculpted production" and called it an "obvious hit". Jenna Hally Rubenstein from MTV stated: "Flanked by a heavy, menacing bass line, 'Dark Horse' might not be about black hats, cauldrons, and other Halloween-y things, but it is a slice of trap-tinged pop that sounds like a clear departure from Katy's lighthearted, Jane of the Jungle-themed Roar". Jason Lipshutz stated that "The verses of 'Dark Horse' are built around icy rhythms and chopped-up vocal samples, until Perry wades into the crescendo and asks, "Are you ready for, ready for / A perfect storm, perfect storm?" Carolyn Menyes from Mstarz compared the song's beats and rhythm to those of "E.T." from Teenage Dream. Perry stated that the song has "an urban kinda hip-hop background flavor to it", adding that they lyrics "are kinda witchy and dark, it's as if I was a witch warning this man not to fall in love with me, and 'if you do just know I'm gonna be your last'".
"This Is How We Do", produced by Max Martin and Klas Ahlund, was described as being the possible "song of summer [2014]". Shirley Halperin from The Hollywood Reporter described "This Is How We Do" as "a sunny 80s throwback", while Edna Gundersen from USA Today described it as a "buoyant pop blast with hip-hop underpinnings" and praised the song's recurring refrain ("It's no big deal!"). James Montgomery from MTV called the song a "cocksure, club-ready banger". Nate Jones compared its lyrics to "Last Friday Night (T.G.I.F.)" from Teenage Dream, though felt its lyrics were less comedic.
With "Double Rainbow", produced by Greg Kustin and co-writer Sia Furler, Perry was allowed to "dump pent-up emotions" and "get things off her chest". The song was described as a "massive ballad". Jason Lipshutz deemed it as a "breathy love track" with a "powerful chorus that explodes upon impact" with lyrics that include "One man's trash is another man's treasure / so if it's up to me, I'm gonna keep you forever". He added that "Kurstin brings the pop sensibility he's flashed with artists like Kelly Clarkson and P!nk, while Sia's presence connects this sleek, shimmering pop track to [her David Guetta collaboration] 'Titanium'". Elijah Sarkesian felt that "Some of Katy's finest vocals of the album are on this song".
Perry described "Love Me" as a song "about loving yourself the way you want to be loved". Edna Gundersen called it "irresistibly catchy and energetic". The song was produced by Bloodshy.[15] Elijah Sarkesian called it "an interesting mix – the lyrics are dark, but the music is very dance-centric. At the very least, it'll do well in clubs". James Montgomery stated that "Love Me" and "International Smile" both "seem destined for the dance floors". The latter was inspired by Perry's friend Mia Moretti, and was compared to the songs on Perry's previous album, Teenage Dream. Jason Lipshutz called it a "straightforward pop-rock offering" and described its guitar hook as "kicky", adding that the song also includes a "Melting Daft Punk-esque vocoder breakdown". Shirley Halperin stated that in the song, Perry sings the "hooky" line: "Please fasten your seat belts and make sure your champagne glasses are empty". Nate Jones compared the song to "Last Friday Night (T.G.I.F.)", and particularly praised the saxophone solo at the song's end.
Shirley Halperin described "This Moment" and "Ghost" as "mid-tempo ballads that are closest in DNA to Perry's previous smashes".[20] Perry stated that she was inspired to write "This Moment" after she heard the audio book of The Power of Now; the song's lyrics talk about "living in the present"; with Perry "add[ing] a romantic spin" to it. Gary Trust described "Ghost" as a "mesmerizing ballad", while Edna Gundersen described it as "powerful, dark, and haunting". Jason Lipshutz felt that "Ghost" and "By The Grace Of God" contain the album's "most somber moments".
Release
On September 10, 2013, it was announced that Katy Perry would be working with Walmart to create a deluxe 'ZinePak version of the album. Fans were asked to participate in its creation to ask Katy a question in which she will answer in the 'ZinePak.[1] The 'ZinePak includes a 64-page interview magazine that Perry helped create, an embroidered patch, 49 nail decals, temporary tattoos that symbolize each of past albums, a sample of the fragrance Killer Queen, and a seed pack.
On October 15, 2013 Katy Perry announced a special limited edition version of the album will be released in the United States. The Facebook message read: "In the US, the first 300,000 copies of the deluxe version of my new album comes in this limited edition iridescent package and will contain special #PRISM seed paper - plant the PRISM and spread the light!"[2]
Due to full deluxe version of the album leaking on October 16, 2013, Prism became available for streaming online on Katy Perry's official website on October 17, 2013. The same day the album was made available for streaming, Perry announced on her Facebook page the album would be released in Ireland, Italy, Slovakia, and Slovenia on October 18, 2013 followed by a worldwide release on October 22nd.
"What do Italy, Ireland, Slovakia, Slovenia have in common? They all get #PRISM Friday! DON'T WORRY if it's not in stores for you yet..... I've made PRISM available to stream here until it goes world wide on TUESDAY: http://smarturl.it/PRISMpreview. I'm really excited to share these songs with you all..... I'm so proud of them. Will u let me know what u think & how they make u feel please? And which one is your favorite o' course."[3]
Commercial performance
The week after its release, Prism debuted at number one on the Billboard 200, selling 286,000 copies in its first week. This marks Perry's second number one album in the United States, as well as her highest album first week sales of her career.
Singles
Promotional singles
Track list
Standard edition

Deluxe edition
Other recorded tracks
References