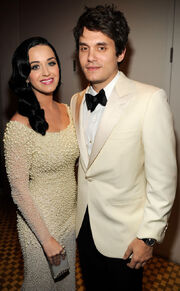 John Clayton Mayer
(born October 16, 1977) is an American guitarist, singer-songwriter and producer. Born in Bridgeport, Connecticut, and raised in Fairfield, he attended Berklee College of Music in Boston. He moved to Atlanta in 1997, where he refined his skills and gained a following, and he now lives in Montana. His first two studio albums,
Room for Squares
(2001) and
Heavier Things
(2003), did well commercially, achieving multi-platinum status. In 2003, he won a Grammy Award for Best Male Pop Vocal Performance for "Your Body Is a Wonderland." He and
Katy Perry
began an on-off relationship in August 2012. In a January 2014 interview with
GQ
, Perry addressed their relationship, saying "I'm just having a wonderful experience with a wonderful guy. There's no rush." The couple reportedly broke up in late February 2014 but later reunited before splitting again in 2015.
Work with Katy Perry
He worked with Katy Perry on the following songs:
Songs from Prism (2013):
Songs from John Mayer's Paradise Valley
Ad blocker interference detected!
Wikia is a free-to-use site that makes money from advertising. We have a modified experience for viewers using ad blockers

Wikia is not accessible if you've made further modifications. Remove the custom ad blocker rule(s) and the page will load as expected.