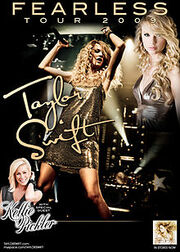 The Fearless Tour was the first concert tour by country music singer, Taylor Swift. The tour was in support of her sophomore studio album, Fearless. On the tour, she was joined by guests, Kellie Pickler and Gloriana. During specific dates of the tour, Swift performed with guests such as John Mayer, Faith Hill and Katy Perry.
April 15, 2010
During the April 15th show in Los Angeles, at the Staples Center, Swift started singing a cover of "Hot N Cold", but later surprised her audience by having Katy Perry rise from the stage to join her for the rest of the song.
Taylor Swift
Taylor Alison Swift is a country-pop singer. During both of their early careers, they were seen in many photos together. In addition to that, they sat with Selena Gomez at the Nickelodeon Kids Choice Awards 2012.
Ad blocker interference detected!
Wikia is a free-to-use site that makes money from advertising. We have a modified experience for viewers using ad blockers

Wikia is not accessible if you've made further modifications. Remove the custom ad blocker rule(s) and the page will load as expected.